Room Type
Single: Junior
Room Size:9m² 120cm
Items indispensable for you business and a private space are provided in a compact room.
Search

Single: A
Room Size:11m² 120cm
Shuttle boats between Sakurajima and Kinko Bay welcome our guests.
Search

Single: B
Room Size:12m² 120cm
A specious room eases fatigue of your work.
Search

Single: Deluxe
Room Size:14m² 140cm
A specious room and state-of-the-art massage chair ease fatigue of the day.
Search

Double
Room Size:14m² 180cm
A king size bed of 180cm in width promises you a sound sleep.
Search

Twin
Room Size:14m² 120cm
A room with twin beds available for a stay with friends or family.
Search

Twin + Bunkbed
Room Size:14m² 80cm×2
90cm×1
Search

Japanese-style room
Room Size:22m² 
Available for a stay of up to 5 persons. This private space can be used not only for a stay but also for a meeting or conference with a few people.
Search

Suite
Room Size:50m² 140cm
Consists of a bed room with views of the Sakurajima and city panorama and a living room with a 52-inch TV set you can watch from a massage chair.
Search

Universal
Room Size:19m² 100cm
Equipped with an electric bed and sofa bed. A large shower room can be entered with a wheelchair.
Search

Breakfast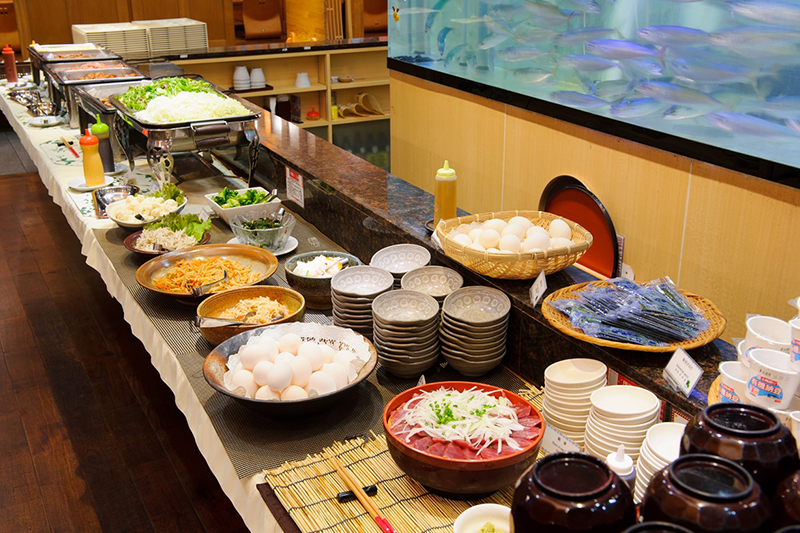 Konpiramaru Kagoshima Taniyama head store
A seafood restaurant sticking to local production for local consumption, delivering true taste of seafood caught in Kagoshima waters.
Opening Hours
Lunch 11:00 - 15:00 (L.O. 14:30)
Dinner 17:30 - 22:30 (L.O. 22:00)
Number of Seats
100 seats
PlaceGround
floor of the hotel
Facilities
Free Parking
Accessible Room
Wi-Fi
Room accommodation/Amenities
Facilities…○ Rental…★
TV

○

Refrigerator

○

Electric kettle

○

Hair drye

○

Bidet toilet

○

Trouser press

★

Toothbrush

○

Razor

○

Shampoo

○

Conditioner

○

Body soap

○

Bath and Hand towels

○

Pajama

○

Slippers

○

Wi-Fi

○