Room Type
Business single
Room Size:13.6m² Bed Size:95cm
This is a compact size room which is optimal for a single traveler, or a business traveler. We have facilitated the convenience by installing open style closets, and bar tables
Search

Business double
Room Size:18.6m² Bed Size:135cm
Based on the hardwood floor and monoton furnitures, you can fell cozy. It is suitable for all types of guests. The room has necessities for efficient business tasks and travels with double bed which offers more comfortable sleeping place.
Search

Business twin
Room Size:18.6m² Bed Size:95cm×2
There are two single beds. This room is customized, and is more practical and more convenient for a single or a couple travelers
Search

Standard double
Room Size:18.6m² Bed Size:135cm
Recommended for a single visitor or a couple. Clean beddings and sophisticated decorations in a classical atmosphere satisfies customers' convenience and comfortable rest.
Search

Standard twin
Room Size:18.6m² Bed Size:95cm×2
This is a normal type room and a couple of travelers are favorable to it. It is efficient and it of an individual style space.
Search

Deluxe double
Room Size:18.6m² Bed Size:190cm
Sizable beds and enjoying the landscape of Seoul above the 12th floor helps you relieve fatigue and regain energy.
Search

Deluxe Twin
Room Size:18.6m² Bed Size:95cm×2
It is a space where you can relax with a neat interior decoration and fabulous interior. Two single beds allows you to feel comfortable and help you sleep better. You can enjoy panoramic view of Seoul from the 12th floor.
Search

Deluxe Family Twin
Room Size:23.9m² Bed Size:135cm+95cm
Installed with a double bed and a single bed, it is a room which is even available for family guests Gorgeous interior and relaxing space allow you to feel comfortable as if you are at home. It is a healing place in which you can enjoy the wonderful view of Seoul.
Search

Breakfast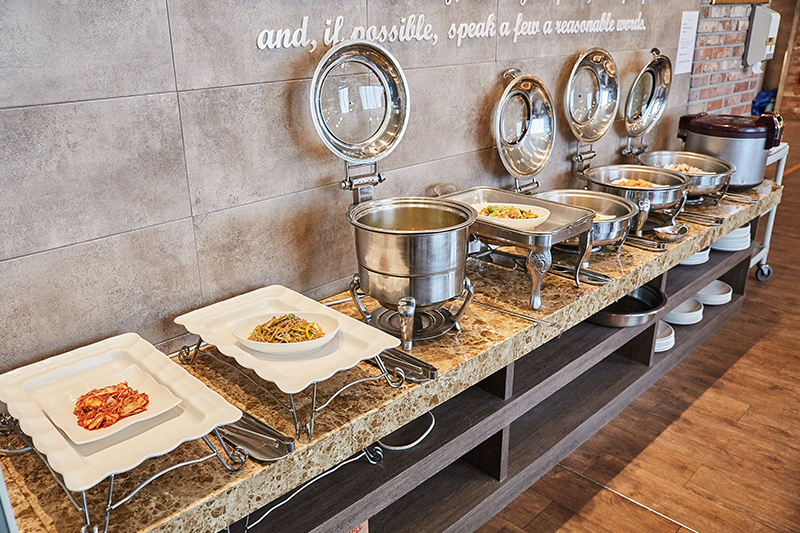 Café Biz
Located on the 2nd floor of Chisun Hotel, Café Biz offers breakfast buffet,dinner, and customized services based on the reservation system
| | |
| --- | --- |
| Opening Hours | 7:00~15:00 |
| Seating Capacity | 80 |
| Place | 2F |
Facilities
Room accommodation/Amenities
Facilities…○ Rental…★
TV

○

Refrigerator

○

Electric kettle

○

Hair dryer

○

Toothbrush

○

Hair brush

○

Shampoo

○

Conditioner

○

Body soap

○

Bath and Hand towels

○

Pajama

○

Wi-Fi

○